Discussion Starter
·
#1
·
I haven't posted anything on my car in a while, so figured now was a good time for an update. I just got the new motor fired up the other day and the car sitting back on all four after being on jackstands for about 2.5 months. The old motor had detonation damage that would have cost a pretty penny to fix, so the new heart of the beast is a bluebird det. It's stock internals for now, but has jwt S4 cams. I stripped the motor when I got it and put in new seals, my newer oil pump, and newer water pump. Did a little powder coating as well to dress it up. I have to set the idle and base timing yet, but it starts and idles decently. Running a JWT ecu, STi yellows at 4bar, and z32 maf.
Here's the motor out of the car getting ready to go back in.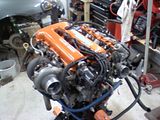 Back in the car.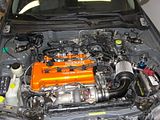 Video of it running. Cams give it a little lope when the idle settles in. Should sound even better once I get the idle set better.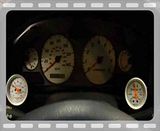 Here's also a couple shots of the suspension under the car and how the wheels sit. I modified the lower a-arms last year to raise the front roll center. As you can see in the picks, the a-arms are still sloped down from the car to the wheel. Most folks sitting this low have a-arms point towards the sky. Ignore the worn out tires
The wheels are 17x9 +35 with 235/40 tires. The front track is about 1.5" wider than stock due to the a-arm modifications. To get the same look on the stock suspension, you'd need about a +10 wheel (the fenders are rolled and pulled).